A taste of home: CaribAfrica Specialty Shop opens on Welland's East Main Street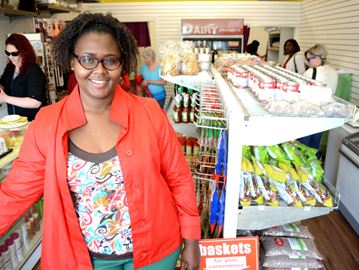 CaribAfrica Specialty Shop
Steve Henschel/Staff Photo
Naomie Cesar celebrated the grand opening of her business, CaribAfrica Specialty Shop last Friday. The shop brings a taste of her native Haiti to downtown Welland.
Niagara This Week – Welland
WELLAND — A taste of home can go a long way, and, in some instances some will go a long way for a taste of home.
When Naomie Cesar first immigrated to Canada from her native Haiti in January of 2008 she soon found herself going a long way for some of the amenities of home.
"I had problems finding hair products," recalled the single mother of two who first came to Canada as a refugee and has since gained her citizenship. At first she got involved with the Welland Heritage Council and Multicultural Centre. She was one of the first to graduate from the organizations Women's Entrepreneurship Program. During her time there she found others who had trouble finding similar hair products like hair relaxers and extensions.
Soon she found herself driving all the way to Toronto to pick up products and selling them to fellow immigrants at home in Niagara.
"There are things you just can't find," she said.
Soon requests started coming in for food items from back home in Haiti. Items like corn meal, goat, oxtail and champagne cola only found on the island nation.
"When you have that you feel like I'm home," she said.
Cesar had to go far afield for such items. Her trips to Toronto extended into trips to Montreal to pick up food items. Couple that with her duties as a part-time nurse and stability in terms of time for her children was becoming an issue. All the while though Cesar was cultivating a dream in her mind, a store featuring all the items she was carting across the province.
Last week on Friday that dream officially became a reality as she celebrated the opening of her store, CaribAfrica Specialty Shop at 234 East Main St.
See  Niagara This Week for the full story!